Episode 70 - Touching Base with Tahlia IV- Espicop/aliens
Doug and Tahlia kick back and go over 3 weird and wonderful articles that Tahlia brought to the table.
2 years ago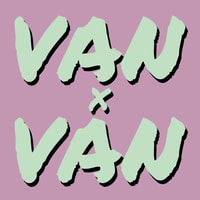 One again Tahlia Murdoch returns with three outlandish articles for your enjoyment. Hear us talk about a dog loving bank burglary bungle, a religion for aliens and unwilling fish spies on this episode of Touching Base with Tahlia
Articles:
Follow Tahlia: https://twitter.com/tahliamurdoch
Follow Doug: https://twitter.com/dougvandelay
Follow the Show: https://twitter.com/vanxvancast
Follow the Cave Goblin Network: http://twitter.com/cavegoblins
Find more podcasts and friends of the network at cavegoblins.com
Check out our podcasting host, Pinecast. Start your own podcast for free, no credit card required, forever. If you decide to upgrade, use coupon code cavegoblins for 40% off for 4 months, and support Van x Van and the Cave Goblin Network.